"How can we stop losing child sponsors?" This question was posed to me recently by a nonprofit leader of an organization who utilizes the child sponsorship model. In this post, we'll explain why knowing the churn rate associated with your recurring donations is important and provide 3 strategies for sponsor retention.
Churn is a term used to describe the rate at which donors discontinue their financial support with the organization over a given period of time – in other words, the rate at which child sponsors discontinue their sponsorship.
Churn is a key metric to track as it directly affects program growth.
For example, if a sponsorship program has 1,000 sponsors at the beginning of a month and 50 of them drop, the churn rate for that month would be 5%. Churn is a key metric to track as it directly affects program growth. High churn rates in a child sponsorship program can have significant financial implications and may be indicative of problems with the overall sponsor experience, which could negatively impact outcomes in the program.
3 STRATEGIES FOR SPONSOR RETENTION:
1. Maintain regular communication
Provide frequent updates to sponsors about the program through email or direct mail. Address any concerns or questions sponsors have in a timely and professional manner. Recognize and thank sponsors for their support and show them the impact of their giving. Building community can have a range of positive impacts for both sponsors and their sponsored children.
2. Personalize the relationship
Encourage sponsors to write letters to their sponsored child to build a personal relationship and offer opportunities for sponsor visits to the child's community. Share updates about their sponsored child through letters and updated photos. Promote a sense of connectedness and investment in the child's well-being, which can have a positive impact on the child's development
3. Offer opportunities for deeper engagement
Provide the opportunity to engage with the organization beyond financial donations. Share opportunities to volunteer, engage with other sponsors and connect with the organization's leadership. These activities can lead to continued support and success of the sponsorship program.
It's important to acknowledge that sponsors discontinue their support for a variety of reasons such as financial changes, changes in the sponsor's personal life, a child's completion of the program or loss of interest in the program. However, by using these 3 strategies, organizations can decrease the likelihood of losing sponsors while simultaneously strengthening the relationships between sponsor and child.
Want practical ideas to grow your existing child sponsorship program?

Download our FREE eBook at www.brightpointforchildren.org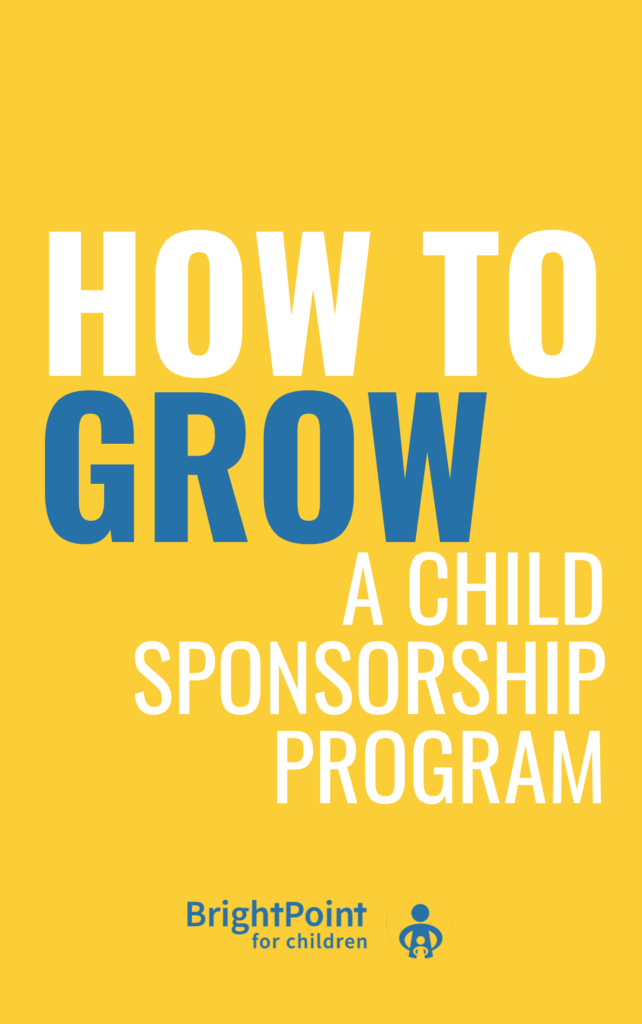 Organizations who want to change the world need the tools to do it. While you serve vulnerable children worldwide, BrightPoint for Children works behind the scenes to manage your sponsorship program. We've spent over a decade refining our processes to improve accuracy, reduce errors, attract new sponsors, keep existing ones and serve more children. More than a boxed software product, we become your full service child sponsorship team. You're making a difference; we'd like to make it easier.
Subscribe today for more child sponsorship insights!